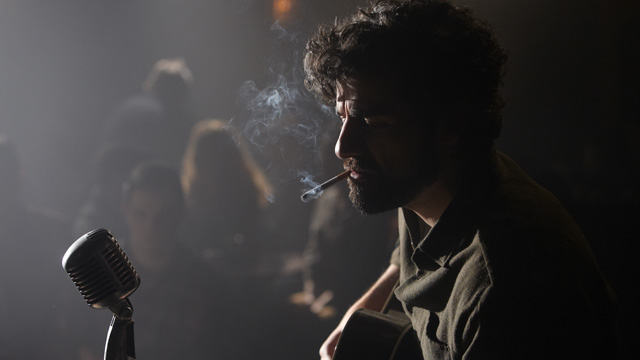 Francisco was delighted--I think it was his favorite movie in years.
It was well done, a stream-of-consciousness snapshot into Llewyn Davis's poorly-going life. And the music is gorgeous.
It is dark and not dark: On the one hand, you look for Llewyn to get a break, as you would in a typical struggling-artist story. But on the other hand it's not that, his partner has died (killed himself?), he has no money, no place to live, no gigs and probably has signed away royalties on a good song to get some quick abortion money to take care of an inconvenient pregnancy. There's no meaning, and there's not much hope at the end.
But others have far more interesting thoughts:
"

We are, after all,

inside

Llewyn Davis, a place where music has lost its meaning as a social tool, as a means of reciprocal human connection, as anything other than the nearly abstract expression of pure talent and the desire to be recognized. That it failed to resonate more fully for audiences in this age of

American Idol

and instant, disposable fame says much more about audiences (and the vagaries of movie marketing) that it does about this latest wonder from the fertile, unforgiving, blackly comical minds of the Coens."
--
Dennis Cozzalio
(the whole thing is great)
"
Watch how Llewyn uses his music as a tool: a weapon, a shield, a challenge, a payment, a bribe, a gift, a meal ticket, a proof of authenticity, an apology... You could see it as a kind of
Raging Bull
with an acoustic musician instead of a boxer, a man so steeped in pride and self-loathing that his life has become an effort to build a monument to his own iconoclasm and unlovability, cloaked in a form of non-careerist ideological purity.
And then there's the cat, an orange tabby we (and Llewyn) belatedly find out is named Ulysses. He takes us on quite an odyssey, leading us back in time, through the Village streets and into the subway, and eventually all the way to Chicago. Who is this cat and what is he doing here? That's a good excuse for another viewing..."
--
Jim Emerson